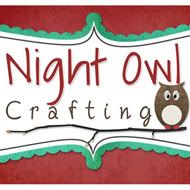 Night Owl Crafting is hosting Hoo Are You? #34
Here are this week's questions
1. Do you make a budget and keep it, or just fly by the seat of your pants?
We have a vague budget, i.e. don't spend more than you make!
2. Do you do spring cleaning and if so which month?
We "spring" clean when the mood strikes, or when I can't stand it any longer!
3. Are you a yard sale lover and do you have them and go to them?
I only have yard sales when the entire neighborhood has a joint sale. I don't typically go to yard sales either.
4. What do you take when you have a headache?
I take whatever is closest..Tylenol, Aleve or Advil.
5. Name 3 things that you feel lucky to have in your life!
I fell very luck to have 3 happy and healthy little boys. They are my light!
I also feel lucky to have a wonderful husband and a great group of friends!